Our herb plant stock is lovingly cared-for. Best results – call in, have a browse, enjoy ! please note our plants are seasonal for best growth results in Yorkshire gardens! please follow us on Twitter, Instagram or like us on Facebook for the latest up-dates, or sign up for our occasional e-newsletter
The list below is the latest availability at our shop (last up-dated 02.8.18) 
Alecost (Tanacetum balsamita) 
Alecost can be eaten with eggs, seafood, veal, pork, beef, lamb, chicken, salad greens, summer fruit. Add small quantities to salads, soups, root vegetables, potatoes, beans, poultry and meat based stuffings. A hardy herbaceous perennial. Happiest planted in well drained soil in sun or partial shade. 
Angelica ( Angelica archangelica)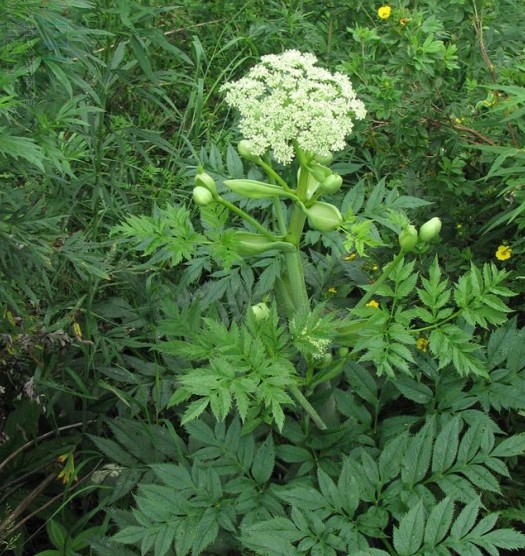 Globe Artichoke (Cynara cardunculus) 
Artemisia Powis Castle (Artemisia arborescens) 
Basil (Ocimum basilicum)
also Greek Basil 
This popular summer favourite is great with tomatoes, goats cheese, lemon, eggs, shellfish, lamb, chicken, peaches, raspberries, figs. Grow indoors or under glass in a sheltered sunny spot. Annual. 
Bay ( Laurus nobilis)
The leaves can be picked throughout the year -try with cream, potatoes, tomatoes, chestnuts, fish, game, pork, lamb, chicken, beef. Happy grown in a pot, in a sunny sheltered spot, and bring indoors during the northern winter.
Bronze Bugle (Ajuga reptans) 'Atropurpurea'
Borage (Borago officinalis) (sold out)
Cardoon (Cynara cardunculus)
Catnip (Nepeta cataria)
Chamomile (Chamaemelum nobile) 
Chives ( Allium schoenoprasum)
Also Garlic Chives 
Try with smoked fish, cheese, beetroot, potatoes, tomatoes, avocados. A clump forming perennial which enjoys a sunny spot in well drained soil.  
 Coriander (Coriandrum sativum)
Cotton Lavender ( Santolina species) 
Curry Plant (Helichrysum italicum) 
Dill (Anethum graveolens)  (sold out)
Dittander (Lepidium latifolium) (sold out)
English Mace ( Achillea ageratum ) 
Try this with chicken, fish, fennel, beans, rice, pasta, and don't confuse with the spice, mace, which is the outer husk of nutmeg. A perennial which will enjoy full sun and free draining soil. Happy in a pot too.    
Fennel ( Foeniculum vulgare)
Also Bronze Fennel,
Florence Fennel (sold out)
Garlic (Allium sativum) (sold out)
Horehound (Marrubium vulgare) (sold out)
Horseradish (Armoracia rusticana) 
Hyssop 
Lavender (Lavendula angustifolia) 
Also Grosso, Vera, Madrid Blue, Provence, Munstead, Old English, Edelweiss, Folgate, French, Kew Red, Bowles Early, 'Papillon', Pinnata, Fathead, Madrid White, Madrid Pink, Hidcote, Tiara, 
Lemon Balm ( Melissa officinalis) 
Also Variegated Lemon Balm 
Lemon Verbena (Aloysia citrodora) 
Santolina Lemon Fizz  
Lovage ( Levisticum officinale) 
Marigold (Calendula officinalis) (sold out)
Marjoram (Origanum majorana) 
Also Gold Tipped, Golden 
Milk Thistle ( Silybum marianum )
Mint (Mentha spicata)
Also Moroccan, Garden, Swiss, Berries and Cream, Apple, Hillary's Sweet Lemon, Grapefruit, Strawberry, Lemon,
Pennyroyal (Mentha pulegium)
Mugwort (Artemisia vulgaris)
 Myrtle (Myrtus communis) 
Oregano ( Origanum vulgare)
Also Greek, County Cream, Hot & Spicy 
Parsley ( Petroselinum crispum) 
Rosemary (Rosmarinus officinalis)  
Also trailing rosemary.
This beautiful aromatic herb is easy to grow and so versatile. Try with oranges, plums, apples, pears, lentils, oily fish, potatoes, chicken, lamb, beef, pork, veal, rabbit. Happiest planted in a sunny place. An evergreen perennial.  
Salad Burnet ( Sanguisorba minor )
Sage ( Salvia officinalis) 
Also Purpureum, Tangerine, Narrow Leaved, Blackcurrant, 
Sorrel ( Rumex acetosa) 
Also Buckler Leaved
Red Veined 
Self-heal ( Prunella vulgaris )
St John's Wort (Hypericum perforatum)
French Tarragon (Artemisia dracunculus)
Teasel (Dipsacus fullonum )
Thyme ( Thymus vulgaris)
Also Tabor, Pink Chintz, White, Creeping Lemon, Archers Gold, Common Garden, Golden Stream, Foxley, Silver Posie,  
Tree Spinach ( Chenopodium giganteum)
Vervain (Verbena officinalis)
Woodruff ( Galium odoratum )
Woad (Isatis tinctoria)
Yarrow (Achillea millefolium)
….
….